Boycott China, urges Sir Paul /Beijing Olymic game mascott
This article is quoted from
http://www.thisislondon.co.uk/showbiz/articles/
21039901?source=Daily
Boycott China, urges Sir Paul
By Matt Born, Daily Mail
28 November 2005
Sir Paul McCartney has vowed never to perform in China after seeing secret footage of cats and dogs being slaughtered for their fur.
He urged his fans not to buy Chinese goods and to boycott the Beijing Olympics in 2008.
Describing China's treatment of animals as 'uncivilised', he compared it to the treatment of black people in apartheid South Africa.

His criticism came after the former Beatle was shown film of animals being killed in a fur market in the city of Guangzhou, southern China.
But it drew an angry response from the Chinese Embassy in London. A spokesman cast doubt on whether the footage - which is due to be broadcast tonight in a special report on BBC1's Six O'Clock News - was genuine.
'Sir Paul should be calling for a boycott of the fashion industry using fur in the European and American markets,' he added.
In the film, shot by the pressure group People for the Ethical Treatment for Animals, dogs and cats are shown being thrown from a bus on to a concrete pavement.
The animals, many with their bones broken from the fall, howl with pain as they are picked up with long metal tongs and thrown over a 7ft high fence to be killed. Some appear to be still alive when skinned.
Sir Paul, a vegetarian and vocal animal rights campaigner, said: 'This is barbaric. It's like something out of the Dark Ages.
'I wouldn't even dream of going over there to play, in the same way I wouldn't go to a country that supported apartheid. This is just disgusting. It's against every rule of humanity.'
As the world's biggest fur producer, China is estimated to kill more than two million cats and dogs for their skins every year.
Sir Paul's boycott will be a major blow to the Chinese authorities, who are highly sensitive to how the country is portrayed abroad as it prepares to host the Olympics.
'People think because China is going to host the Olympics then they must be coming into the modern world, but then you see this sort of stuff,' the 63-year-old singer said.
'If they want to consider themselves a civilised nation, they're' going to have to stop this.'
His wife, Heather Mills McCartney, urged consumers to boycott Chinese goods in protest, saying: 'If we can hit them in their pockets, maybe they'll do something to stop this.'
--------END of quotation-------------

I agree with Sir Paul.
See Tibet and East turkestan.

China beef up Tibet and East Turkestan people

. Many people is suffering for China's coercion.

See

2005 Beijing International Marathon.


(a)Top runner mistaked route and

he took short cut(B)

. No official peple stopped it.
(b)Many civilians who ride on bicycle and motercycle run near runner all the way.

The people are common civilian, not officail people.

It seems that they plug the runners. See following photos.

I don't think China has a ability to host the Olympic games.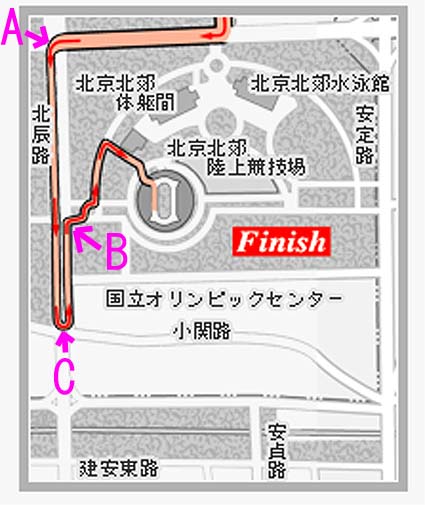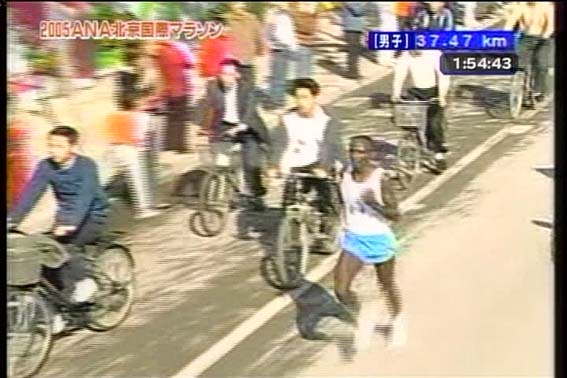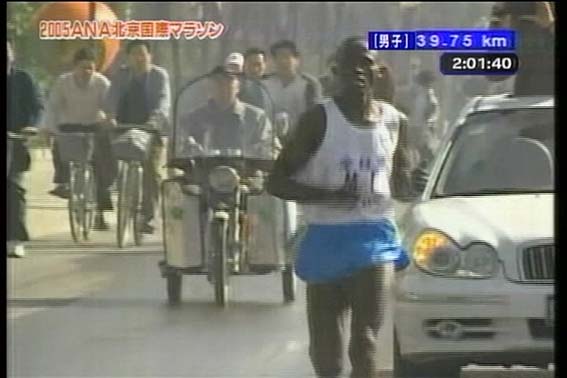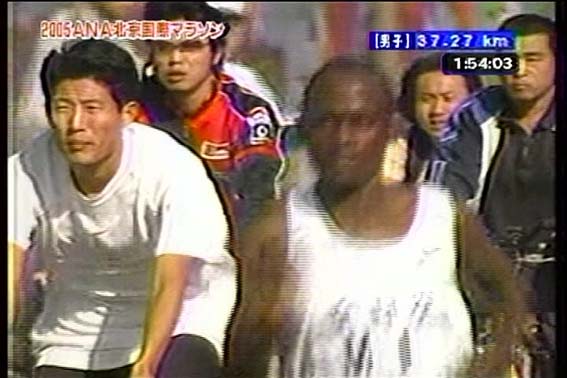 Beijing Olympic game's mascot is plagiarism?

These are mascot of Beijing Olympic games.
See Japanese Manga(Cartoon). They are very similar. They say mascott is imitation of this manga.